Casio unveiled another collaborative timepiece model, this time bearing the style of Nigel Sylvester, a pro BMX street rider who has joined as a new G-Shock team rider.
The new GD100NS-7 model features stark white band with a contrasting black face and Nigel Sylvester signature emblazoned in red. It comes with the standard for the G-Shock watches toughness and durability, offering 200M water resistant and additional features like auto LED (super illuminator) with flash alert, 48-City World Time, 5 independent alarms , 1/100th second stopwatch, countdown timer, 7 year battery and 12/24 Hour formats.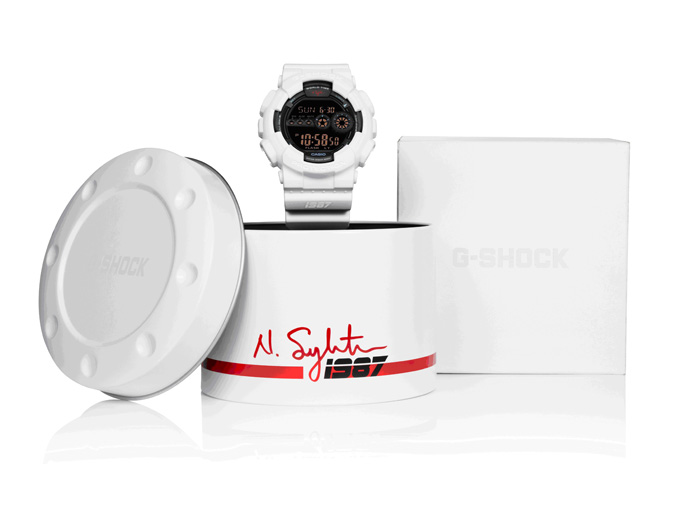 The Nigel Sylvester Signature G-Shock model will go on sale this August for $110.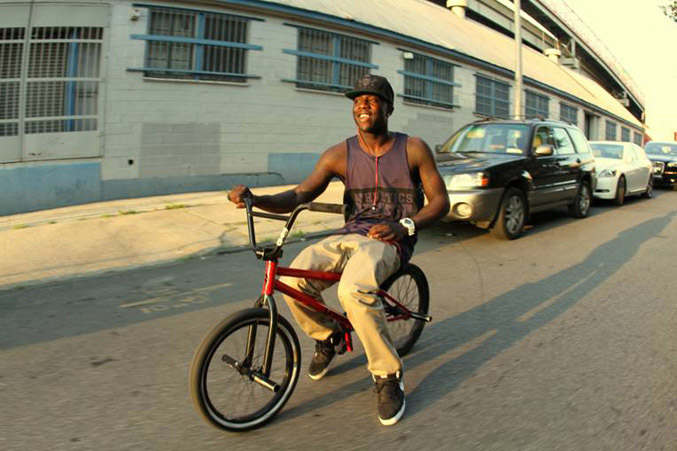 The newest member in the Casio's triple sensor timepiece portfolio is called ProTrek PRW5000Y-1. Designed for outdoor and sports enthusiasts, the new Protrek watch uses the same technology found in the company's Pathfinder line and is equipped an altimeter, barometer and thermometer.
Along with the Tough Solar Power technology, the model has Multi-Band 6 Atomic Timekeeping that  automatically synchronizes with Coordinated Universal Time broadcast and contains an analog/digital timekeeping format with a unique second hand that acts as a compass needle and altitude & barometric pressure differential pointer. The LCD display show vital outdoor data, such as direction, altitude, barometric pressure and temperature, while hour and minute hands are specially designed with cut-outs for greater visibility of the dial underneath.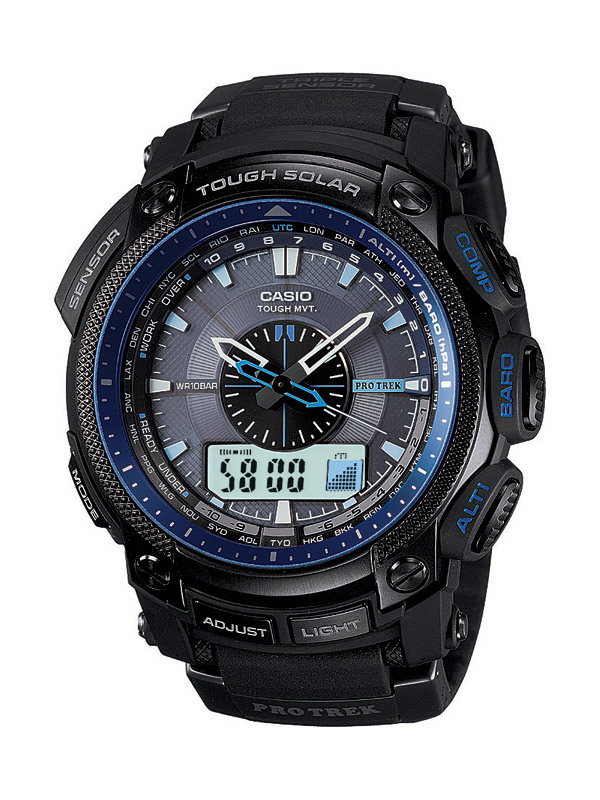 The PRW5000Y-1 has a resin band with an electric blue dial and blue IP stainless steel bezel, Mineral glass, large textured buttons for easy operation and offers usual durability and  water, temperature and shock resistance.
Casio's ProTrek PRW5000Y-1 is available for a MSRP of $480.00

G-Shock and the Surfrider Foundation comes again with co-branded collaboration watch -  the GRX5600SRF-3 digital watch. The timepiece has has Self-Charging, Tough Solar Power technology, shock resistant construction and recycled packaging.
Designed with the surf lifestyle in mind, has bright yellow and deep jade motif with the Surfrider logo on the band and the back, features 200M Water Resistant, Custom Full Auto EL Backlight with a red surfer catching a wave, 48 City World Time + UTC, 4 Daily Alarms and 1 Snooze Alarm, Hourly Time Signal, 1/100th Second Stopwatch, Dual Countdown Timers, and 12/24 Hr. Formats and Tide Graph function with 100 pre-set site locations as well as a Moon Age & Phase Data indicator for the ultimate tracking the tides.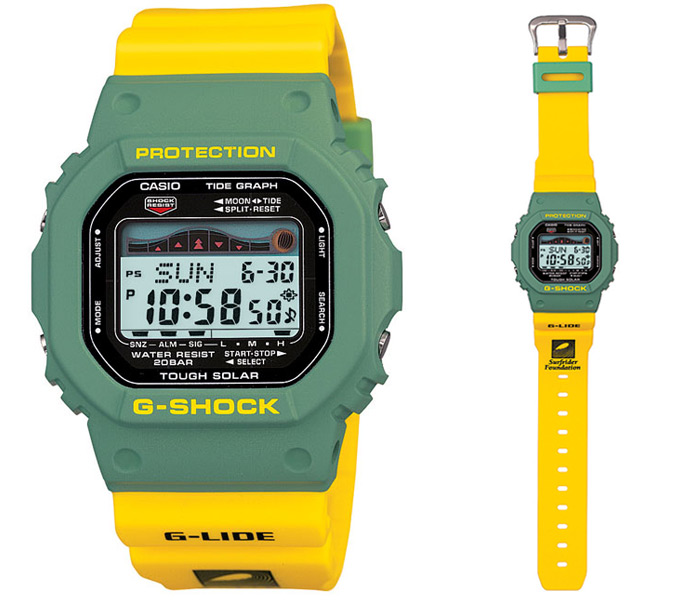 "Casio is known worldwide for consistently producing superior quality watches, and we could not be more excited to be partnering with them for the second year in a row," says Matt McClain, Surfrider Foundation's Director of Marketing and Communications. "This limited edition collaboration is ecologically friendly and a great way to highlight our commitment to protecting and preserving our coastlines."
Casio GRX5600SRF-3 is expected to be available in July for $130.