Here is another interesting solution on the laptop market, a solar powered netbook from Samsung called NC215s1.
The 10.1-inch netbook is equipped with built-in solar cells on its back lid, which will give you an extra work time when the battery runs out. Spec-wise this laptop comes with LED-backlit (1024 x 600) display and is boosted by an Atom N570 (dual-core) processor paired with 1GB of RAM, GMA 3150 integrated graphics and 250GB HDD. The standard connectivity options are included too – 10/100 LAN, WiFi,802.11bg/n, Bluetooth V3.0 along with a 6-cell battery, which Samsung claims can allow up to 14 hours of operation.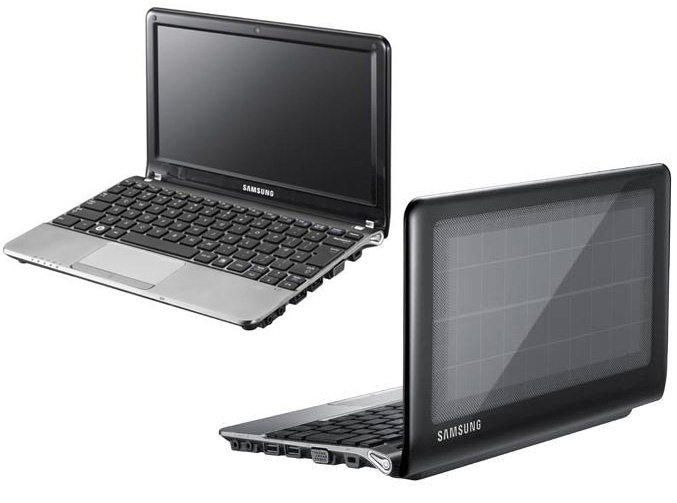 The world leader in advanced memory technology, Samsung Electronics, announced that it has developed the first 32 Gigabyte performance enhancing, load reduced and dual inline memory module for server applications (LRDIMM) in the industry.
Samsung Electronics will start to produce the 32GB Memory Module in the second half of 2010, thus giving it the largest family of DRAM products in the industry.
The 32 Gigabyte Performance Enhancing Memory Module for Servers will use Samsung's cutting-edge forty nanometer class and four gigabit DDR3 chips, thus accommodating the next generation servers designed for virtualization and cloud computing, as well as high capacity applications.
Executive Vice President of Memory Marketing at Semiconductor Business for Samsung Electronics, Dong-Soo Jun, said that in developing the first load-reduced module in the industry with 40nm-class DDR3 Technology, they are underscoring their determination to combine the best of capacity and performance for the newest generation of servers.
The Samsung 32GB LRDIMM comes with seventy-two 4GB DDR3 chips combined with an additional memory buffer chip in order to help reduce the load on the memory subsystem by seventy-five percent. The memory capacity of the CPU can rise up to 384 gigabytes and up to 768GB in a two-way server system, operating at 1.35 or 1.5 volts. The server equipped with the LRDIMMs can also process data at 1,333 megabit per second, and approximately seventy percent faster than the previous speed of 800 megabit per second.
Samsung launched its S-series of camcorders at the CES 2010. Three units are available in the S-series including the HMX-S15 and HMX-S16 that are the world's first camcorders to have integrated Wi Fi and DLNA connectivity and the Samsung HMX-S10 with no WiFi.
Both WiFi capable camcorders, the HMX-S15 and HMX-S16 features the 1/2.3 inch BSI (Back Side Illumination) CMOS imaging sensor that offers outstanding low-light performance, a Schneider Kreuznach Varioplan-HD lens with Samsung's 18x Intelli Zoom and a 3.5-inch touchscreen with a 3D UI. They both are capable of snapping 10 megapixel photos and record full HD video in 368×208 at 300fps or 192×112 at 600fps.
The HMX-S15 and HMX-S16 comes with 32GB and 64GB SSD respecitvely plus there is a SD/SDHC memory card slot, the Samsung HMX-S10 has all the features of both above but has no Wifi or interanl SSD storage.
[samsung]
Samsung unveils a new cell phone concept that opens "like a book to reveal a flexible OLED big enough to handle those cute puppy videos that no plain-vanilla, 2.5-inch display can do justice."
Cellphones are caught in this awkward spot where they've got to be small — like pocketable, doesn't-look-ridiculous-on-your-face small — and yet somehow big enough to pack an expansive, pretty display that's capable of displaying a lot of stuff at once.
[via Engadget]