BlackBerry has been considered by many to be a little old hat for the last couple of years. The advent of HTC and Samsung has seen the Canadian made phones fall from grace with Androids and iPhones swamping the market and eating into RIM's market share quite drastically.
However, the new T-Mobile BlackBerry Bold ? which takes up the mantle of what some would say was the last great BlackBerry, the previous Bold ? will hope to change that. So, can BlackBerry make a comeback with this device, or is it done for? Will BlackBerry 9900 deals be competitive enough to stop the advances of the ever growing Android hordes?
Well the Bold 9900 starts off well and looks like quite a sleek phone and has the appeal of the more modern handsets like the Samsung Galaxy SII or the iPhone in its streamlined design. Gone are the faux leather and little additional rubber bits on the side and in comes a carbon fibre looking machine.
The device's touch screen has also improved, and it is thankfully a massive improvement on the Storm's screen, which few people have good memories of. This all is topped off with the new 1.2GHz processor that speeds up proceedings by more than double that of the Torch. The phone also comes with an improved 5mp camera and has BlackBerry's new OS7 – another leap in technology for RIM.
So is this all enough?
Well, though this is a wonderful jump in capability for a BlackBerry, the phone seems to have just caught up in many areas technologically. Technical specs aren't everything though and the major breakthrough has been with the new operating system. The new OS7 is light years ahead of previous BlackBerry interfaces and is much less demanding than competing interfaces like Android.
BlackBerry OS7 shows that RIM has finally produced what it takes to compete in today's smartphone market in terms of software. Like Microsoft who revamped their mobile Windows interface at the end of 2010, RIM has finally produced an operating system worthy of the current era of phones.
The OS deals out a much sleeker look and comes with new Liquid Graphics that make it one of the more eye catching operating systems. OS7 now includes HTML5 video and a far superior web browsing experience. This is good considering that BlackBerry phones have always been superb devices for online features anyway.
The Bold 9900 has a 5 megapixel camera with 720p video support which will provide more than enough for most people's day to day photography needs. Included are the standard BlackBerry features like Messenger and BlackBerry Maps.
Physically the Bold 9900 is not much different to previous models, although it has had a revamp in technical specs. Although not as highly charged as some dual core phones on the market the Bold has all the technology it needs to offer a great web, media and professional experience although much of the new found excellence undoubtedly comes from the new operating system.
So you work for HTC and you've been asked to name your company's latest offering. So without an ounce of irony or with any fear you're going to tempt faith, what do you call it? The HTC Incredible S, of course.
So does HTC's latest device live up to its title?
Well the first thing that strikes you about the new HTC is its shape. It's the sort of shape that will divide design aficionados. It has a rubber back and the battery juts out a little in quite an industrial style. Personally I think it looks attractive and at least HTC are brave enough to take a leap of faith and try to liven-up the iPhone emulation that seems to currently prevail in the market.
The phone also has a red version, which does look a little spectacular. Though, you'll be sorry to hear it's only available in Denmark for some strange reason. Denmark?
The phone itself has a 4in screen that runs at 800×480 resolution – nothing new or crazy there. Under the rubbery bonnet is a single core 1GHz processor with 758MB of RAM. In this day of the dual core 1.2GHz chip this seems a little dated and not so incredible.
The Incredible also boringly runs the good but also updatable Android 2.2 Froyo, not the new Gingerbread Android. Its camera is an 8mp dual LED light flasher – a good camera by all accounts.
Though, one of the show stealers is the Incredible's look when turned off. It has a set of four light buttons that when turned off give it a black monolithic appeal. However, its greatest trick is to come; when you turn the phone anticlockwise when it's on the four buttons turn to face you upright from the anticlockwise position – clever eh?
The new Incredible has HTC's Sense interface, which is certainly a good thing as it does work wonders and gives an edge to HTC phones that have it. Unspectacularly the HTC is 11.7mm thick, making it large in comparison to many other devices on the market. Another little irk is that it doesn't have SIP or NFC support, which are starting to become common features on modern phones.
The new HTC is set to be around £500 sim free, with prepay versions for around £400 and it will be available for about £25 on a 24 month contract.
So is it worth it? Well in a way yes as it's a very solid and reliable offering that certainly does everything well. But it doesn't live up to its name and do them all that incredibly. Perhaps if this phone had been released 12 months ago its name would have been somewhat more apt, although it still holds its own as an excellent mid-range smartphone. However, the knowledge that it's just above average and the idea of taking on a 24 month contract may put some people off.
used mobile phones
Acer America has announced the availability for pre-order of its Android powered Iconia Tab A500 tablet. It is now up for pre-order at Best Buy with recommended price tag of $449.99 and is expected to become available on April 24th.
The 10-inch (TFT 1280 x 800 touchscreen) Iconia Tab A500 tablets has brushed metal aluminum chassis, only 0.52-inches thick and weighs 1.69 pounds. It is powered by NVIDIA's  Tegra 250 1GHz dual-core processor, backed by integrated GeForce GPU, 1GB of RAM and runs  Android 3.0 (Honeycomb) OS.  Inside you will get integrated accelerometer for auto-rotation, ambient light sensor, GPS, WiFi b/g/n, Bluetooth, Micro-SD card slot, Dolby Mobile speakers, a HDMI output, two USB ports, and a 3260 mAh battery that provide up to eight hours usage of the tablet.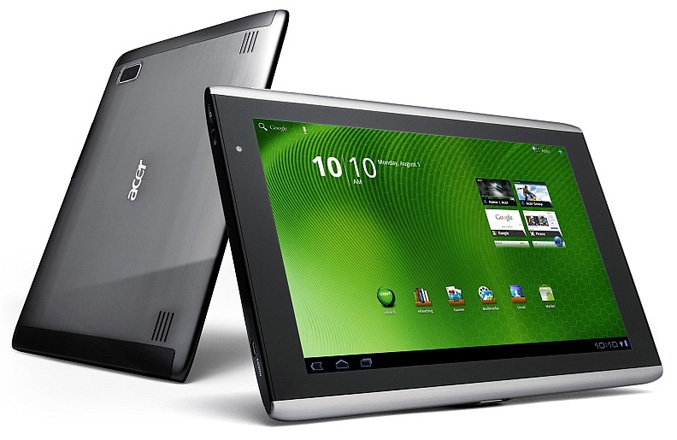 A500 also has a rear-facing 5 megapixel camera with auto-focus and flash,  and a front 2MP camera for video conferencing. It comes pre-loaded with full versions of Need for Speed: Shift and Let's Golf games and multiple apps for different tasks.
Acer also offers several accessories for the A500, including a dock with IR remote for $79.99, full-sized Bluetooth keyboard for $69.99 and  protective case which also acts as a stand for $39.99
Apple has made its second-generation iPad official – the iPad 2 is here. It features a new design, it is lighter and packed with new features. Although it has the same 9.7-inch LED-backlit IPS LCD with 1024 x 768 pixel resolution, Apple says that is 33 percent thinner and up to 15 percent lighter than the original iPad, actually its 8.8mm thick as opposed to the 13.4mm iPad and weights 1.33 pounds (601 g).
iPad 2 is powered by Apple's new dual-core A5 processor at 1GHz which Apple claims is up to twice as fast than the 1GHz A4 chip in the original iPad and having the same power consumption as the A4. The company also said that the iPad 2′s graphics performance is up to nine times better than on the original iPad.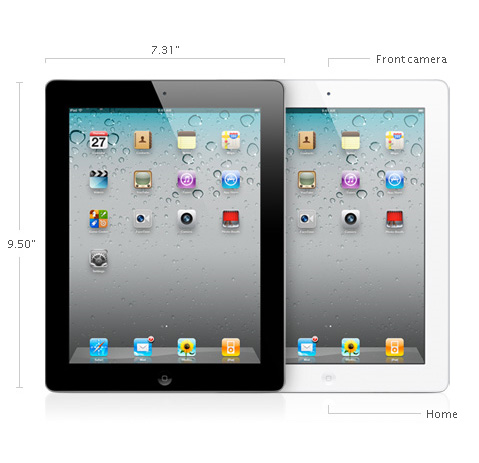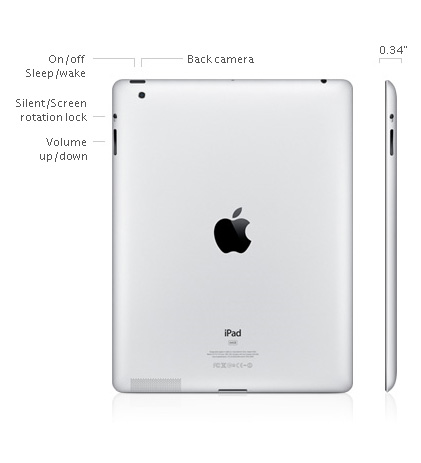 The new tablet  is also equipped with two cameras -  a front-facing VGA camera for FaceTime and Photo Booth with 30fps recording function, and a rear-facing camera that captures 720p HD video with 30 frames per second with audio and 5x digital zoom. The new version come in 16, 32, and 64GB storage options, has 802.11 a/b/g/n(WiFi+3G models), Bluetooth 2.1 + EDR, 3-axis accelerometer, ambient light sensor, digital compass, assisted GPS and has a built-in 25-watt-hour rechargeable lithium-polymer battery that promises up to 10 hours of surfing the web on Wi-Fi, watching video, or listening to music. It also offers built-in speaker, microphone,  as well 3.5-mm stereo headphone minijack, giving you convenience to hook up your favorite headphones or external speakers.
The iPad 2 is capable f 1080p Full HD HDMI output, but you have to purchase an optional Apple Digital AV Adapter that plugs into the standard Apple dock connector. This adapter will let you mirror your iPad screen on an HDTV and also will allow you to charge the tablet at the same time. It will set you back another $39.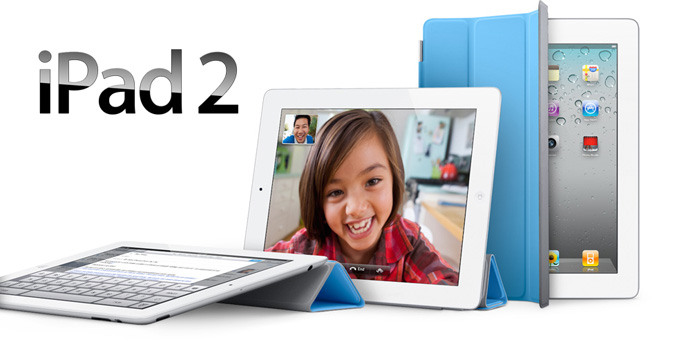 Apple offers and new cover for the iPad 2, called Smart Cover which is designed with a self-aligning magnetic hinge that makes it easy to attach and remove, has a soft microfiber lining to help keep the screen clean, and provides protection for the iPad screen. It's also automatically wakes iPad 2 when it's opened puts it to sleep when it's closed. The Smart Cover can also acts as a a stand for typing or viewing videos and is available in vibrant polyurethane for $39 or leather for $69 in a wide range of colors.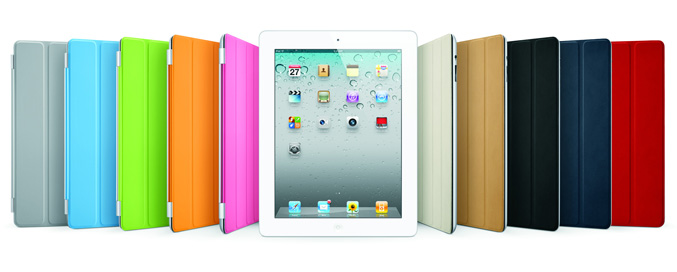 The iPad 2 comes with iOS 4.3 version pre-installed, that brings new features like updated Safari browser, FaceTime, iTunes Home Sharing, enhancements to AirPlay,  Personal Hotspot to share an iPhone 4 cellular data connection over Wi-Fi and the choice to use the iPad side switch to either lock the screen rotation or mute audio.
The iPad 2 is available from March 11th in black or white with following prices:
- WiFi-only models – 16GB at $499 | 32GB at $599 | 64GB at $699
- WiFi+3G models – 16GB at $629 | 32GB at $729 | 64GB at $829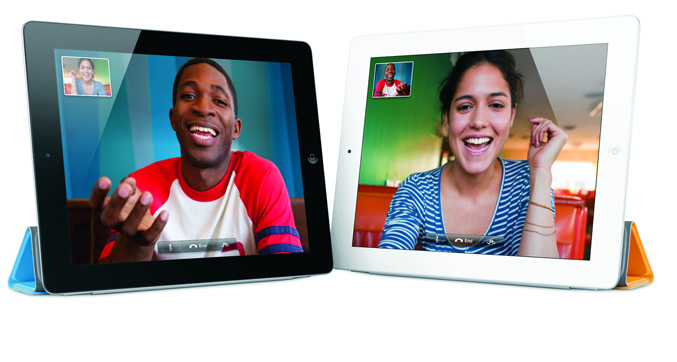 Fujitsu today announced that their Windows 7 based Stylistic Q550 slate PC will be available starting April 2011. Fujitsu claims that their tablet meets the most stringent ICT security requirements of governments and businesses.
The Stylistic Q550 measures 275 x 192 x 16.2, weighs 680g, has antifingerprint coating and rubberized coating on backside. The slate PC boasts 10.1-inch (1280 x 800) IPS LED anti-glare touchscreen with auto-rotation sensor  and is powered by Intel "Oak Trail" Atom processor. It has 2GM of RAM, options for 30/62 SAT SSD and connectivity comes through the inclusion of WLAN, Bluetooth and optional mobile broadband 3G/UMTS. Stylistic Q550 also is equipped with mono speaker, 2 internal microphones, VGA front camera plus 1.3 megapixel rear camera and offers variety of battery options for up to 8 hours work time.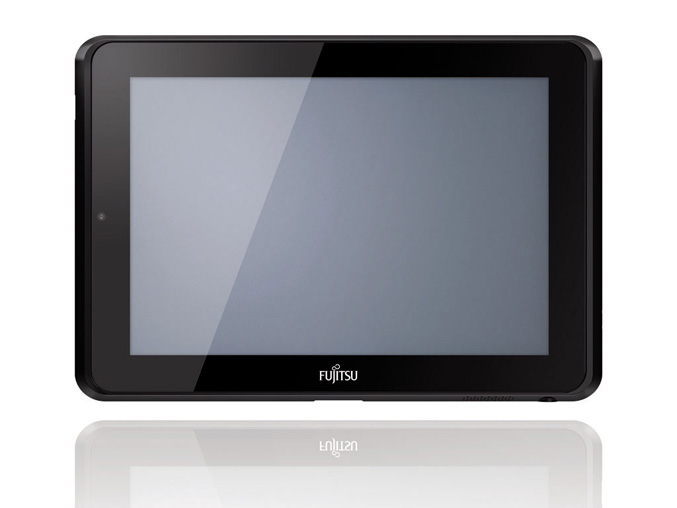 The STYLISTIC Q550 allows to be work on it and with pressure sensitive pen, and automatically recognizes when users are working with it, allowing them to rest their hand on the screen when writing. It comes with handwriting recognition software that converts input to text. The also incorporates several protection against unauthorized access via SmartCard reader, Full Disk Encryption (FDE), fingerprint sensor and feature advanced Theft Protection (ATP).
Acer has unveiled a new smartphone at MWC 2011 which has a huge 4.8-inch (1024×480) multi-touch display with a 21:9 aspect ratio and is called Iconia Smart. It has metal body with dimensions of 141.7 (L) x 64.5 (W) x 13.6 (H) mm and weighting 185g, packs Qualcomm MSM8255-1 processor at 1GHz and runs Android Gingerbread 2.3 with Acer UI 4.2.
The Iconia Smart has 512MB of RAM, 8GB of ROM, G sensor, Light sensor, Proximity sensors, eCompass, Gyro-meter, supports HSDPA 14.4 and WiFi 802.11n speeds, has integrated Bluetooth 2.1 + EDR, A-GPS, and 8 megapixel camera with 720p HD recording and LED flash on the back and 2megapixel front camera for video calling. It is also equipped with Dolby surround sound technology, HDMI out that supports 1280×720 video output and a 1500 mAh battery and is expected to be available this May.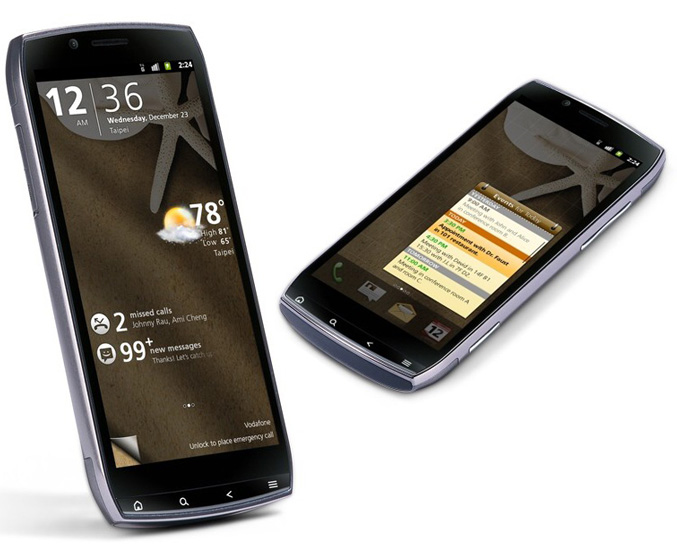 Motorola utilised the Consumer Electronics Show at Las Vegas to show off their impressive new Atrix handset that is expected to cause concern for at least a few of their competitors. This is because even though it might look like a normal touch screen phone from Motorola, it is anything but. In fact, one of the things that make the Atrix stand out from its competition is that it has the computing power of a laptop by utilising a dual core processor to its maximum use. Yes, the LG Optimus 2X is the first phone to be introduced with a dual core processor. The Motorola Atrix however, can be combined with a unique docking port to provide the functionality of a laptop computer, complete with a full windowed operating system
The Motorola Atrix comes with a gorgeous 4 inch touch screen display operating on capacitive technology complete with multitouch input. This brilliant touch screen display dominates the front of the phone, with a secondary video camera for video conferencing just above. It is the rear of the phone that actually looks the best with its panels looking to replicate the carbon fibre image. Apart from enhancing the looks of the phone, it is also great to hold and the phone will probably never slip out of your hands.
Even though the thickness of the phone might be a slight disappointment at 10.3 mm, it is not something that you will find very hard to live with. Also, you need not worry about maintaining the large screen because Motorola has provided the gorilla glass display along with fingerprint resistant materials to keep the touchscreen shining as new. Running on Android 2.2 Froyo, the Atrix also features Motorola's MotoBlur user interface that comes with excellent social networking integration for the likes of Facebook, Twitter and MySpace.
It has a 5 megapixel camera with 720p video recording, with support for 1080p HD video playback and there is even an HDMI port allowing you to watch videos from the Atrix via a TV. With DLNA Wi-Fi on board you can easily connect the Atrix up to other DLNA devices without the need for an intermediary wireless hotspot, and with microSD cards the Atrix has a potential 48GB of storage space for all forms of media content.
What really marks the Atrix out as unique however, is the three additional docking ports available. The aforementioned laptop dock comes with the WebTop OS that transforms the Atrix into a fully-fledged computer that is even capable of running a full version of Firefox. The media hub on the other hand, can turn the Atrix into a portable multimedia centre for music and video, while the satnav dock allows you to more easily make use of the GPS features on board while driving your car (a small point that is often overlooked by other smartphones).
The Motorola Atrix has just been announced at January's CES and it might take some time before it is officially launched in countries like the UK. Motorola, though, has confirmed that mobile phone deals for the Atrix will be launched in the United Kingdom, although a 4G enabled version of the Atrix will only be available initially in the United States.
Acer unveiled its newest smartphone which is enclosed in full metal casing, has a giant 4.8-inch touchscreen display with a 21:9 aspect ratio, powered by 1 GHz Snapdragon processor and has a 8 megapixel camera with LED flash.
Acer says that the new smartphone combines the soul of of tablet with the capabilities of a smartphone. It has thin and slightly curved full metal body, enriched by subtle wavy patterns. The multi-touch, 4.8-inch LED backlit display boasts an impressive 1024 x 480 pixels resolution which is baked by Android OS. It is equipped with 6-axis motion sensing (Gyroscope + accelerometer), also has 802.11n WiFi, Bluetooth 3.0, HSDPA support, Adobe Flash Player 10.1 support, HDMI port, Dolby Mobile technology, DLNA streaming capabilities and in addition to 8 megapixel rear camera, packs another one 2 megapixel front camera.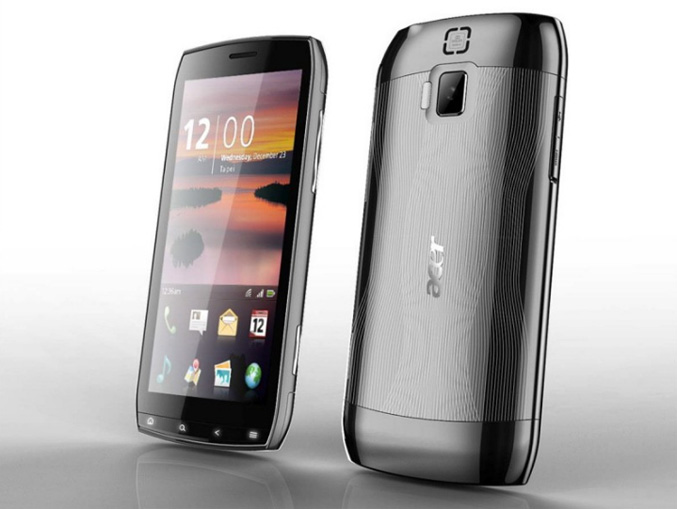 Interesting, isn't it, but you have to wait until April 2011 when it will be launched.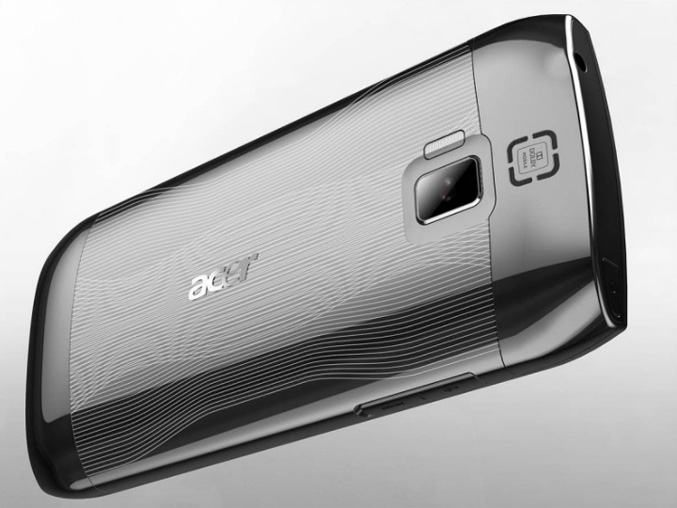 Motorola announced today that is has launched the stylish square and compact smartphone called Motorola FLIPOUT with MOTOBLUR in Brazil.
Motorola's smartphone, The FLIPOUT, is powered by Android 2.1, and features an innovative square design that has a five-row QWERTY keypad with a separate row of numeric keys.
The Motorola FLIPOUT with MOTOBLUR is expected to be available in Brazil by the first half of July 2010 at the price of $999.
The Motorola FLIPOUT features a lot of interactive wallpapers and seven customizable home screens thanks to the Android 2.1.
Vice President of Mobile Devices for Motorola Brazil, Sergio Buniac, said that the FLIPOUT with MOTOBLUR launch reinforces the commitment of Motorola to giving users a more complete and customizable Android experience while maintaining its heritage of innovative smartphone design.
FLIPOUT will be released with three different colored battery doors.
For more information and specification about the FLIPOUT.
The iPhone was Apple's top-selling product last quarter, which took $5.45 billion in sales, or 40 % of revenue. Apple Inc may plan to uncover the successor of its highly appreciated product iPhone this June. Apple Inc CEO Steve Jobs will be addressing the company's Worldwide Developers Conference to be held in June and the news much likely will be revealed then.
According to Willian Kreher(St Louis-based analyst at Edward Jones & Co), the company will introduce the new hardware i.e the latest iPhone. WWDC is known for the product introduction and this time it will be the new iphone. Steve will kick off the meeting on June 7 which will be till 7 days.
Since the release of iPhone in June 2007, Apple has presented a new version every summer. In July 2008, the iPhone 3G went for sale which was then followed by another upgraded version in June 2009.
buy used iphones